Image

25+ Years of Experience Keeping Tree and Shrubs Beautiful
Tree & Shrub Care in Pittsburgh
Your trees and shrubs might grow next to your grass, but they have very different needs. Instead of trying to figure out what's best for your ornamentals, let the experts at Lawn Sense take care of things for you! We've been providing tree and shrub care in Pittsburgh for 25+ years, so we know how to keep them looking great year-round. When you work with us, we guarantee:
Free quotes
Friendly, local technicians
A wide variety of special offers
Healthy, beautiful trees and shrubs
A 100% satisfaction guarantee
And more!
Custom Treatments for the Best Results
There's no one-size-fits-all approach when it comes to tree and shrub care, so we always get started with a free inspection. We'll look at the type of plants you have, where they're planted on your property, and if they have any existing issues. Then we'll take all of our findings and create a custom treatment plan that is guaranteed to give you results!
Our tree service includes:
Root feedings

to give your ornamentals all the nutrients they need, delivered right to their root systems.

Insect control

to protect branches and foliage from damaging pests.

Disease control

to stop fungal problems from spreading and killing your plants.

Monthly visits

to keep your landscaping looking great, no matter what season it is.

No-contract options

for you to choose the services you need, when you need them.
Benefits of Ornamentals
Ornamentals add color and variety to your landscaping, but they also do a lot more than that! They can also make your home a better place to live, make you money, and help the surrounding ecosystems. Keeping your trees and shrubs healthy ensures you get benefits like:
Increased property value:

Well-maintained, mature plants can increase your property value by up to 20% and give you a return on your investment.

Privacy:

Large trees block light, dampen noise, and obscure the view into your backyard, giving you a private outdoor space.

Decreased erosion:

Trees and shrubs have large root systems that easily anchor the soil in place, stopping dirt from washing away when it rains.

Improved air quality:

Plants are a natural way to filter out some pollutants, like carbon dioxide. They also give off oxygen.
Save $30 on Your First Application
What Makes Lawn Sense Different
When you work with Lawn Sense, you're working with the best of the best. We've been in business since 1997, so we have all the experience and knowledge needed to pamper your plants from the roots up. Our technicians are also state-certified, highly trained, and friendly. We love making lasting relationships with our customers, and we can't wait to work with you!
Trust Our Satisfaction Guarantee
If you've ever tried to take care of your landscaping on your own, you know how difficult it can be. With our tree and shrub care in Pittsburgh, you'll see results the first time. We use EPA-approved products that are both safe and effective. We also have a satisfaction guarantee, so you can give us a call if you're ever unhappy, and we'll come back to re-treat at no additional cost.
Image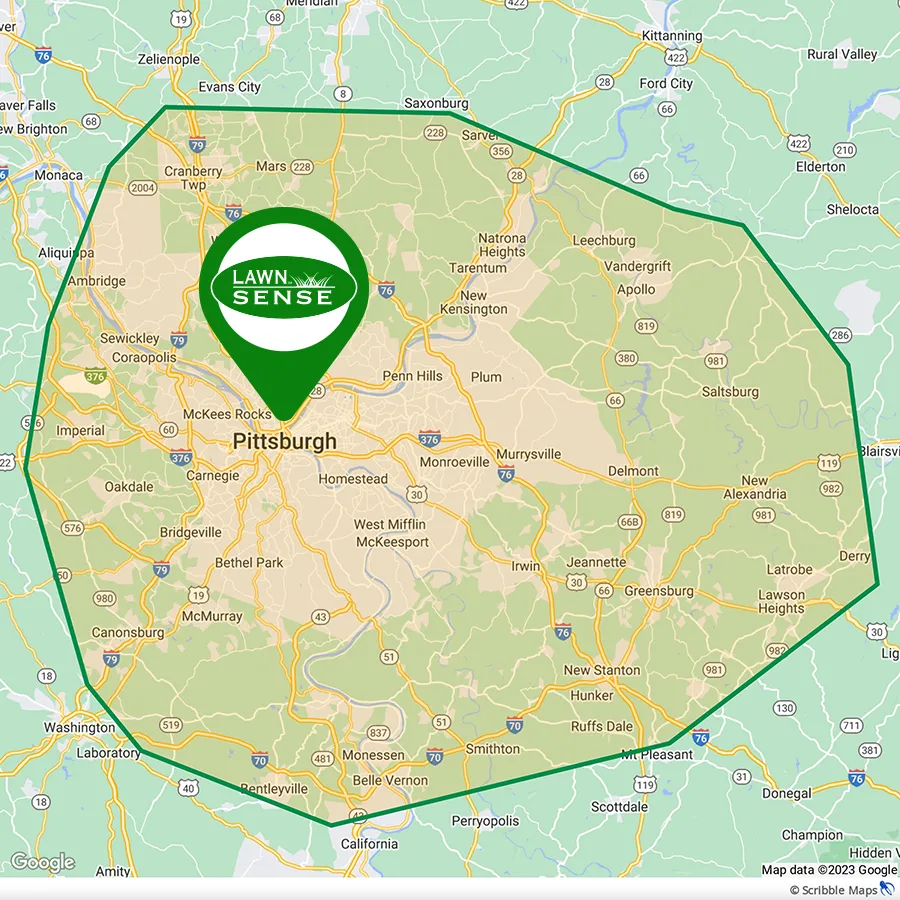 Areas We Service Around Pittsburgh
As a locally-owned company, we're so proud to call Pennsylvania home. We've been providing lawn care here for almost three decades, and we wouldn't want to be anywhere else! Our services are available in: