Image

Boost Your Lawn With Aeration & Seeding
Aeration & Seeding in Pittsburgh
If your lawn doesn't look its best despite proper maintenance, the problem might be soil compaction. Over time, everyday things like foot traffic or heavy rains can compact the soil. This makes it almost impossible for water, fertilizer, and oxygen to reach the roots, causing thin grass and dead patches. To reverse this damage, trust Lawn Sense for expert lawn aeration in Pittsburgh.
When you partner with us, you'll receive:
A free estimate

so you feel confident you're making the right choice.

A free inspection

to look for signs of compacted soil.

Top-notch service

from industry experts.

Guaranteed results

, which include free re-treatments if needed.
How Core Aeration Works
Our services rely on core aeration, which gives you immediate, visible results. We use a specialized piece of machinery to pull up small plugs of soil and place them on top of the ground. This creates much-needed channels that water and nutrients can use to reach the root system, while giving your grass room to breathe. The soil plugs will eventually break down and combine with the rest of the soil without compacting.
Aerating With an Irrigation System
If you have an irrigation system, invisible dog fence, or anything else within three inches of the surface, let us know! We can still aerate your lawn, but we'll be careful to avoid those areas to ensure we don't damage anything. If you have any questions, don't hesitate to give us a call to talk with one of our friendly customer representatives.
Follow-Up With Overseeding
For the best results, we recommend overseeding immediately after aerating, and both services should be done in the fall. Our overseeding services in Pittsburgh ensures mature grass has plenty of time to recover after the stress of summer while new grass can sprout before winter hits. Our experts will give you watering tips to ensure the grass seeds have the perfect conditions to germinate, so you'll have a lush lawn in no time.
Benefits of Aeration & Seeding
Aeration is a key part of maintaining your lawn and it should be done annually. This stops soil from compacting, prevents thatch from building up, and ensures your grass can breathe. After aeration and seeding, you'll see a range of benefits, such as:
Thicker grass:

Overseeding fills in bare patches or thin spots, ensuring you get a thick, even lawn.

Stronger roots:

Grass has a large root system, but the roots can't grow properly if the soil is too dense. Aerated soil makes it easy for roots to grow.

Improved grass health:

Healthy grass starts with healthy roots! Ensuring they can grow properly will give you noticeably healthier turf.

Reduced water runoff:

If water can't penetrate the soil, it sits on top or runs right off. Loosening up soil means your grass can actually absorb the water it needs.

Drought resistance:

Healthier grass is better equipped to resist stressors like drought, disease, and weeds.
No Contracts Necessary
We're always willing to go the extra mile to ensure you have a hassle-free experience, and that includes offering no-contract aeration services. You get to enjoy all the benefits of lawn aeration without worrying about hidden fees, an unnecessary contract, or any of that stress. It's easy to get started —give us a call at 412-254-6789 today!
Image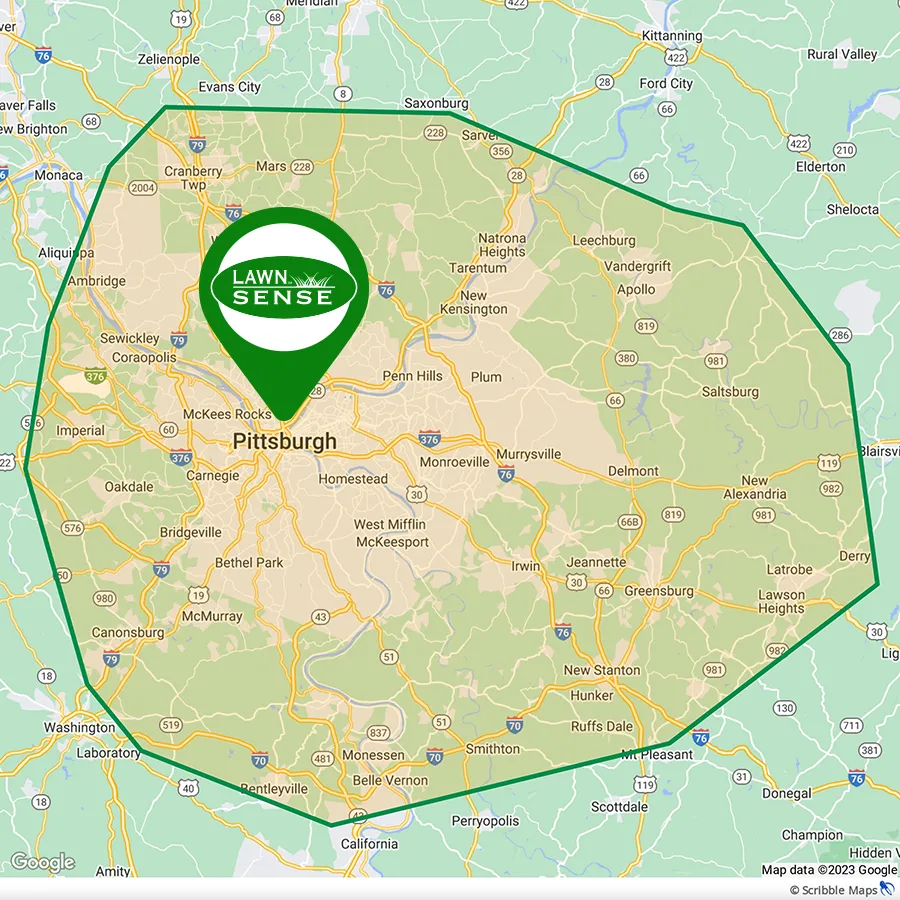 Areas We Service Around Pittsburgh
As a locally-owned company, we're so proud to call Pennsylvania home. We've been providing lawn care here for almost three decades, and we wouldn't want to be anywhere else! Our services are available in: