Image

Get a Better Lawn, Guaranteed!
Lawn Care in Western Pennsylvania
Everyone deserves a beautiful lawn, but not everyone has the time to make it happen. Instead of trying to fit time for yard work into your busy schedule, let the experts at Lawn Sense take care of things for you. We take the time to get to know your property, learn more about your dream lawn, and create a custom treatment plan that's made just for you.
Our lawn care services include:
Weed control

Lawn fertilization

Insect control

Aeration & Seeding

Grub Control

Lime applications
We do not provide mowing services, but you can check out our lawn care guide for tips!
Local Lawn Experts Since 1997
We've been in business since 1997, so we've seen every lawn problem you can think of—brown spots, stubborn weeds, hungry grubs, and everything in between. In addition to 25+ years of experience, our experts also have classroom training, hands-on experience, and are state-certified. There's no one more qualified than our team!
When you partner with us for lawn care, we will:
Complete a free inspection

to search your property for any problem areas.

Use EPA-approved formulas

to make your grass stronger and healthier.

Target existing weeds while stopping new ones

from sprouting.

Apply seasonal fertilizers

to ensure your grass has enough energy year-round.

Schedule recurring visits

every 6 weeks, from March to November.
Organic Lawn Care Options
If traditional lawn care options don't appeal to you, we've got you covered! We offer organic lawn care with products that are effective and safe for the environment. That's just one way the experts at Lawn Sense go above and beyond for all our customers.
A Better Lawn Without a Contract
Here at Lawn Sense, we pride ourselves on making our services available to all homeowners in Western Pennsylvania. That includes offering free inspections, program options that work with your budget, and no-contract services. While we do recommend regular visits for the best results, we leave that choice up to you. Whether you pick monthly treatments or occasional help, we'll always make sure your lawn looks great.
We Guarantee You'll See Results
Choosing the right lawn care company isn't always easy, but we've worked hard to stand out from the competition. Not only do we offer superior services, but we also have a satisfaction guarantee. If you're ever unhappy after one of our visits, all you have to do is let us know, and we'll come back to re-treat for free. It's that easy!
Grub Control in Pittsburgh
Grubs can cause significant damage to lawns and other grassy areas, as they feed on the roots of your grass and can quickly destroy large areas of turf. But with Lawn Sense, grubs can be a thing of the past! Our technicians prevent and control grub infestations, saving your lawn from unnecessary damage. Call us for a free quote on our grub control in Pittsburgh today!
Frequently Asked Questions
How do you bill me for your services?
After each service our bill will be left attached to your front door. You may pay by check, Visa, MasterCard, or money order. We also have a pre-payment discount plan, as well.
Do I have to be present during your treatments?
There's no need to be home during a treatment. It takes less than one minute to treat a thousand square feet of lawn, so we're only there for a short time.
Do I have to sign a new service contract every year?
Lawn Sense programs are automatically renewed every year unless you let us know. In case you forget, we send a reminder letter around February. To cancel your service, you need to call or write Lawn Sense.
What guarantees do you provide?
The treatments your lawn receives from Lawn Sense do not guarantee perfect results. The outcome depends largely on your mowing and watering routine, the amount of shade and trees present, soil and grass varieties and many other factors. However, if you are not satisfied, we'll keep working with you until you are satisfied or we'll refund the cost of the last treatment.
When can I walk on my lawn after a treatment?
We ask that people and pets stay off the lawn for two hours following an application to allow the products to thoroughly dry or be watered in. We'll post a sign after each visit noting the treatment time and date.
When is my next application?
We schedule lawn application in 6-week intervals. If you would also like to have a phone call as a reminder, just let us know.
Image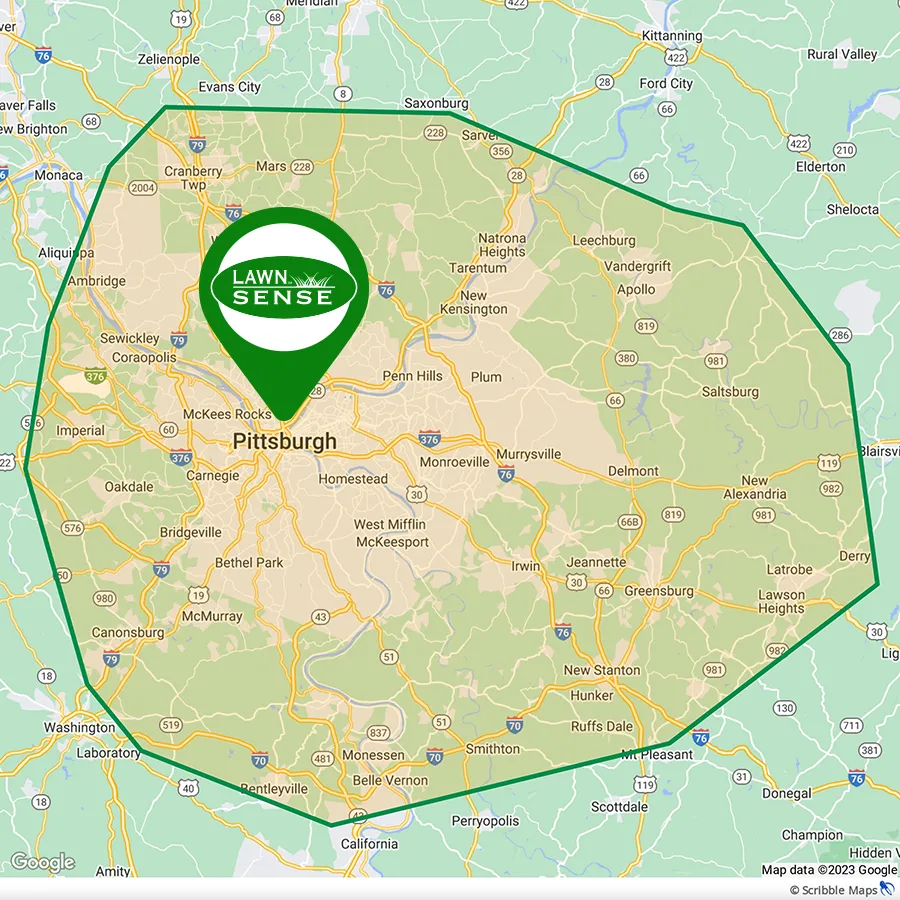 Areas We Service Around Pittsburgh
As a locally-owned company, we're so proud to call Pennsylvania home. We've been providing lawn care here for almost three decades, and we wouldn't want to be anywhere else! Our services are available in: